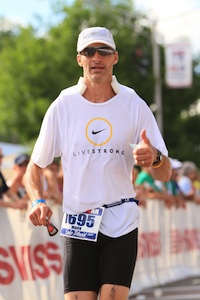 Mark Wholey is an Age Group triathlete and runner. Mark has been an athlete since 7 years old, when he started kicking a soccer ball around in the local youth leagues. He played up through school and into Division I at the Univeristy of Hartford, CT, ultimately spending over 35 years as a soccer player.
Wholey was also a distance runner as a youth, and a middle / long distance track athlete in high school. Growing up in Rhode Island, Wholey is also a surfer and has been in the water in that regard since his youth.
In 2000, after some reoccurring soccer injuries, Mark took up triathlon as his sport. "I had been considering the sport for years and, in fact in college, I ran so much distance that I was routinely chided about how many IronMans I did over the summer." When once, asked to estimate how many miles he had run in total, he conservatively guessed around 25,000.
Professionally, Mark is a Software Programmer and Technical Consultant. BuildingAnIronman.com will feature some mobile device software and other tools that Wholey has developed.
Personally, Mark is a husband and father of three fantastic children. Mark has also been a youth athletic coach over the last 20 years, and is looking for ways to bring multi-sport to younger althletes.
Coming soon, Mobile Triathlete's Assistant software. Also, look for the Nutrition Database to come online in early 2012.